MESSIANIC "TORAH PORTIONS & FEASTS*" ILLUSTRATIONS
NEW MOON/MONTH* ILLUSTRATIONS
(ILLUSTRATIONS IN ENGL. & HEBR.)
YAH*S WORD
(SCRIPTURE-PICTURE GALLERY ENGL. & HEBR.)
27 Tevet 5781, 11. Jan. 2021 (gregorian cal.)
SHALOM MISHPACHA (Hebr. Family),
I HOPE & PRAY YOU ARE DOING WELL WHEREVER YOU ARE. I KNOW MANY GO THROUGH A LOT OF TRIAL, FIRE OF REFINING AND STRETCHING WAITING PERIODS RIGHT NOW. I WISH WE LEARN HOW TO SUFFER-WELL IN ALL OF THIS. THINGS AROUND THE GLOBE ARE SPEEDING UP TO THE SHOWDOWN OF HIS-STORY. BUT WE CAN TRUST & BE STILL AND KNOW HE IS ELOHIM AND HE IS IN CHARGE. OUR KING REIGNS ETERNALLY!
THE WINTER HAS NOW ARRIVED FULLY IN FINLAND WITH A LOT OF SNOW AND FREEZING TEMPERATURES. SO I TRIED TO DO WORKOUT (SKING, ICE SKATING, SWIMMING) TO STAY IN SHAPE FOR ME FULL TIME WORK FOR TAKING CARE OF ELDERLY. ALSO SPENDING AS MUCH TIME AS POSSIBLE WITH MY DAUGHTERS IS HELPING ME. I WAS SO BLESSED BY THE FEEDBACK OF THE TESTIMONY-INTERVIEW THAT WAS AIRED A FEW WEEKS AGO ON NATIONAL CHRISTIAN FINNISH TV 7 STATION. HERE IS THE LINK: https://www.tv7.fi/vod/player/70040/
(there are only subtitles in finish & estonian). After this interview there has been open doors for me to minister to the body of messiah, praise YAH. Many asked about "shabbat and the torah observance as a believer in Yeshua". I thank you so much for your prayer support concerning this special interview & my ministry in general over here. May YAH bless you in return abundantly for this. For the shabbat meetings and and the men's prayer fellowship we have switched from google hangouts to the Jitsi.Meet video-conference platform. Jitsi Meet is an app & website and can be used on all devices without registration or email sign-up. We have started recently also an international prayer evening wed. 7 pm CET with my dear brother and Pastor Teddy Chadwick and his Jitsi.Meet virtual home-congregation. Teddy is serving faithful in the land of Israel many years with praise and sharing/teaching the word and making davidic harps with pick.ups. Check out his website www.jtod.org
We have our "shabbat-mikra kadosh/set apart convocation" meetings for many years now and they start sat. 10 am (CET) time, an international prayer gathering wednesdays 7 pm (CET) and the men's prayer fellowship thursdays at 6 pm (CET). Everybody is warmly welcome to join our meetings. Feel free to contact me if you want to participate. The Link for the shabbat meetings sat. mornings 10 am and men's prayer fellowship thursdays 6 pm is https://meet.jit.si/Jeshua
And for our intl. prayer gathering wednesday eve. 7 pm CET it is https://meet.jit.si/Yeshua
Our virtual home-congregation is growing, todah la EL. We have annointed praise and prayer times, sharing/teaching of the word, open conversations, we take "kidush" hebr. "communion" together and bless each other in multiple ways.
I want to really encourage you in your walk of faith, hold on to the promise of YAH. Stay in the word, pray & fast. Repent of your sins (keep in mind that sin is breaking the torah) and stay close to Abba.
"If my people, which are called by my name, shall humble themselves, and pray, and seek my face, and turn from their wicked ways; then will I hear from heaven, and will forgive their sin, and will heal their land." 2 Chr. 7:14
Have a "blessed new month" (rosch chodesch mevorach in hebr.) which starts in 2 days. Here is the new biblical-hebrew calendar for the greg. cal. year 2021/5781:
https://therefinersfire.org/2021_calendar.pdf
Keep the faith no matter what the news say!
YAH bless with love from Finland, your Brother Andre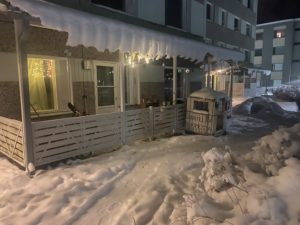 (my appartment balcony & yard)
—————————————————
25 th. of Tishri 5781 / 12.10.2020 (gregorian calendar)
I hope you had a great fall feast season in YAH and enjoyed your time in fellowship with the Almighty, family, brother's and sister's. We had great "mikra kodesch/set apart" meetings throughout the festivals in my place as well as on video-conference calls on hangouts. We started also having regurarly "kidush/communion"in those fellowships. Of course the sleeping in the tent for the 7 nights of "sukkoth/tabernacles" are always special, the kids love it 🙂
I see here it's already 8 month since my last blog entrance here. Of course than Corona happened but the globe was spinning even during all that time. I hope you and your beloved ones are doing great. I pray that you are well, healthy, joyful in YAH and that you are content with his daily bread for you.
I have been focusing this year mostly on the basics. Working in my job taking care of elderly, building our home-fellowship, discipling in our mens meeting as well as in the shabbat meetings. Praise and prayer in the center. It has been a real challenge to mobilize believers to meet up while fear was indoctrinated to society through media and social-distancing. I was encouraged and built up through the daily devotional www.sufferwell.org it goes 365 days. Another devotional that goes for 40 days comes from "the chosen" TV series. Which is avaliable on the free-app. And it has also subtitles in many languages. Here you can get it through Amazon "the chosen devotional"
I had a summer break from work for 3 weeks, I spent the time in a nice summer cottage at a lake, I visited Lapland (north of finland) and norway for the first time. That was amazing because both areas are so beuatiful.
Last week I visited the TV 7 (national christian TV) studios and gave an 1/2 hour testimony in finnish language. The interview was held by Martti Ojares the head of the TV station. The programm is called "Isännän pöydän" (fin. meaning "at the fathers table"). I really don't know how it will turn out. I have never been in front of a camera like that. I was quite nervous. I said stuff that was not planed and forgot things I wanted to say. Well, I guess that's always the case somehow. But I appreciate if you stand with me in prayer that will touch somebody and speak to some soul. I also could sing the aaronic blessing in hebrew at the end. It will be aired on TV7 the 11.12.2020 shabbat (friday) evening at 8 pm. Click here this following link (after the 11.12. if you missed it that date) it will apear in this archive TV7 Interview.
But it is only in finnish with finnish subtitles. I will give my "testimony" in a facebook life video soon so people will have a translation of the interview that way.
I will also start again reading psalms & prophets on my personal fb page. I will invite people to join to read and I will start little teaching sessions after reading and sing a song that fits the theme. Let me know if you wanna join me sometime there and we will schedule that.
Even we had a warm start of the fall here in finland it is getting now colder day by day and rainy as well.
Be blessed in Messiah wherever you are! May the ruach hakodesch (set apart spirit) do the work in you that he is suppose to do it!
"Trust in YHWH forever; for in YHWH is everlasting strenght" Isaiah 26:4
Thank you so much for your support in prayer and in other ways. May the father reward you for it aboudantly.
With love from Finland !
~~~~~~~~~~~~~~~~~~~~~~~~~~
27th. of Adar I 5780, 21.2.2020 (Gregorian Calendar)
We approach now the crown of the week and soon enter into shabbat 🙂 I hope and pray you are all doing great wherever you are. I have not made a blog entrance for more than 1/2 year, a long time. But the world did not stand still. I had a wonderful vacation in Israel last fall, swimming with dolphins camping at the shore of the sea of galilee, visiting the biblical zoo in J.slem, hangin out with bros and sis, enjoying sunsets and beach etc. Praise YAH as it was so important to have that break from my job taking care of elderly, full time shift work. Also work every second shabbat/weekends.
I have started some fire juggling with praise music as a street-art addition to my praise singing and guitar playing on the streets. Last week I did the fire juggling/praise in the center of Helsinki in the front of a shopping mall and it was well recieved. And also the police did not interupt me 🙂 you can check my personal facebook page for videos from tat. You find my fb site link under @contact me@
I was invited by the leader of TV 7 the christian TV station recently here in Finland for an interview and asked to share about the circumcision of the heart. I will go there for the recording of the programm in the spring and it will be shown probably in the summer. I will keep you updated on that.

The shabbat meetings are still going on and we have local meetings as well as the google hangouts @mikra kodesch@ holy convocations online with up 5 to 9 members in average.
Also our weekly men's prayer meetings are also going well. We focus now on discipleship as many mens<husbands
All my my new recordings are on hold at this stage as I am praying for guidance from the Father concerning music. I was anyway too busy with stuff so that it would not have got the focus that it needs I also was going through rough personal trials in the last few months and did not have my head free for creativity. But I praise YAH for all things are working out for good for me.
All these different projects, meetings, ideas, plans of mine I hope you can carry in your prayers for me. I really appreciate all your support and prayer.
I want to warmly suggested a new multi seasonal series about Yeshua and his disciples that is called @The chosen@ that you can watch on your app for free. Share it with believers and unbelievers alike, it is a great outreach tool. Visit http://www.https//studios.vidangel.com/the-chosen
Stay blessed in YAH. Shabbat Shalom in Messiah!
"Do not store up for yourselves treasures on earth, where moths and vermin destroy, and where thieves break in and steal.

But store up for yourselves treasures in heaven, where moths and vermin do not destroy, and where thieves do not break in and steal.

For where your treasure is, there your heart will be also.

Mattthew 6:19-21
Your brother Andre
~~~~~~~~~~~~~~~~~~~~~~~~~~~~~~~~~~~~~~~~~~
14. of the 4th. month /tammuz 5780/ (19.7.2019 gregorian calendar)
The summer has finally arrived in Finland, with warm 25 decrees (celcius) and shining sun making it all green. It's already a few month since my last blog entrance. I have been busy lately with my full time shift work as a male nurse job taking care of elderly and I can proudly announce that I got a permanent job contract including benefits now. All praise & glory to YAH, that was such a great prayer answer. I am looking forward to my summer holiday next month. Another wonderful prayer answer happened last week, I was praying for probably 1 1/2 years for "The Way" Documentary (www.thewaydoc.com) to be shown here in Finland on the christian TV 7 station (www.tv7.fi). The docu tells the story of believers in Messiah who leave churchianity religion to walk and live like the Savior & keeping HIS Torah. It tells partly also my story and that's why I am always in the last 20 min. moved to tears. It was shown with subtitles in finnish last week just when shabbat (friday sunset to saturday sunset) turned into the new week, (actually they broadcasted it 3 times in 15 hours), HALLELU YAH! And I recieved afterwards very powerful testimonies of people who watched it. The manager of the the TV station told me that they are working on subtitles in russian, estonian & swedish. In russia is a big jewish community. I encourage you to get your own dvd copy or link with a password via email and watch it yourself. At the moment I am preparing a teaching on the "circumcision of the heart" because I am invited to share about this subject at an "Israel" Tribe-celebration conference near Helsinki (the capital of Finland) next month. I will try to recorded it and share it with you so check out my next blog. Here are the powerpoint pages for the presentation: "Circumcision of the heart":

(You can use the powerpoint for your own use if you want.)
We have our google hangout "shabbat" meetings with the messianic torah-portion readings every week still going and we little by little increase in numbers. It is such a vital virtual fellowship where we beside studying the word also pray, praise & bless each other. Also the weekly mens prayer group is going well. Praise YAH because we have seen a lot of prayer breakthroughs during the last months. I am doing the summer of psalms & isaiah live stream reading on my facebook page and you are always welcome to join.
Mishpaha (hebrew "family") thank you so much for your support in all kinds of different ways. I really do appreciate that. I am so thankful that you guys are all with me on this exciting journey and I want to bless you in Messiah wherever you are right now. Remember that if you walk with him HE is always there for you.
Shalom from Finland, Andre
~~~~~~~~~~~~~~~~


24. Tevet 5779/ (2.1.2019 gregorian calendar)
Shalom there, wherever you are?! I hope you are all doing great. The winter has hit with full force finland with a lot of snow (you might have seen some of my facebook pictures or live broadcasts from my balcony recently) and freezing tempratures, but still not the -30 celcius that we sometimes get here. It's been a while since my last blog entrance here. Things happen quite speedily on the globe. Now Israel has left the Unesco for good because of the antisemitic bias against Zion. I mean seriously how in the world they can refuse there to see any connection between the temple mount and the jewish state?! A complete denial of common basic history knowledge. Apropos temple mount, just some time ago around Hanukkah (Memorial/Feast of dedication) we had the (re)dedication of the 3rd temple altar just outisde the ancient walls of Jerusalem, so things are prepared to set up for the 3rd. temple. But there is only one little problem, the dome of the rock mosque right in the middle of that plattform. But who knows maybe the Almighty will arrange us an earthquake to take care of it. And than also the question is if the next temple is already really the one that prophet Isaiah and Ezekiel spoke about. We will see…
So things are falling into place as we see in scripture. It's the end times unfolding and we should get excited for our King's return. Are you ready a& excited?
As the new gregorian calendar (that by the way is pagan to the core wtih most of the name of month named after pagan dieties or stars) ends I updated the link for the hebrew-biblical calendar (see above). Feel free to use it, print out and share it. Some of you might ask why there is 2 jewish new years, here is a great article that explains that https://therefinersfire.org/two_new_years.ht (just click on the link).
I am still working full time as a care taker for elderly and I am waiting and praying for the next steps forward. Thanks for your support in prayer and every other way. I really appreciate all of it and I want to bless you in return and be sure the Father will bless you in return.
We see a growing of the shabbat fellowship with connection to google hangouts. We read the torah portions, praise and pray together and bless and encourage each other. Also our men's fellowship is expanding and relationships are building up. YAH has put men's/husband's/dad's, these special brother's in Messiah on my heart already for a few years. I think it is a very important task we see the roles of marriage and family is under attack like never before.
Btw. I have done a reading series on my personal facebook page that is called "Winter of Psalms & Proverbs/Ecclesiastes" that you might want to check out.
Just recently there are coming new melodies and scriptures to my heart and spirit, that I started to compose new songs with, exciting. The next Album will be again a combination of electronical music and handmade instrument sounds.
I wish you YAH's blessing for you and your beloved ones and leave you with this Psalm 31:16 verse:
"
Let your face shine on your servant;
save me in your unfailing love."
~~~~~~~~~~~~~~~~~~~~~~~~~~~~~~~~~
1. Kislev (5779) / 8.11.2018
Rosch chodesh sameach be schem Yeshua / A good month in Yeshua !
I just got back from a 1 week trip to Israel. For those who follow me on facebook have seen the pictures. I am so thankful I had this time of fellowship, praise, prayer time and relaxing. First I visited Jaffa/Jaffo (in scripture often reffered to as Joppe/Joppa) the city with the oldest harbour south of Tel Aviv. From here Jonah made his journey to Niniveh, Paul set from here the sails to his apostolic travels and Peter had a vision here as well (Acts 10). Actually for the first time I got to know Jaffa a bit more and could connect with the local body of believers there. Not to forget the beautiful beach over there where I played frisbee with some prescious brothers in Messiah. From there I went to Jerusalem for a street praise session and also a worship watch at a 24/7 house of prayer. And I visited of course my most special place, the temple mount where I could share about Psalm (Tehelim) 132. I hope I can camp with my tent on the temple mount and day 😉
After J'town I went to Jericho to spent time with the local believers down there. Maybe some of you already know that I have a special calling for Jericho. And I got to get to know new friends in the oldest city in the world. Here the walls came down when Joshua (actually has the same meaning as Yeshua-Yah saves) walked around the city 7 days and than shouted and blew the trumpets as YAH commanded. That indicates that worship is key in spiritual wafare for Jericho. Yeshua called Zacchaeus here from the sycamore tree and invited himself to his house (Luke 19). And today I can witness that Yeshua comes to visit Jericho yet again as people come to faith and get baptised in the Jordan. Please keep in mind that Yeshua started and ended his ministry in Jericho. I spent also a few hours at the dead sea which was very relaxing. Than after Jericho all the way back to Jaffa after a stop in Jerusalem at the "Garden Tomb" of Yeshua near the damascus gate (Yeshua chai / Yeshua is alive!) and another praise street session at ben yehudah in the new center of Jerusalem. For "erev shabbat" (shabbat evening) I lead praise in a house fellowship in Jaffa and also could be part of a worship team in a messianic congregation in tel aviv. Now I am back here in finland at work full time taking care of elderly, focussing on the home congregation with shabbat meetings (also through google hangouts-all in finnish) and the men's prayer group. I was listening to scripture a lot during my trip and I can suggest the "gideon bible app" app for this purpose. They have different voices for different roles and prober background music for the setting fitting. Get it here for free:

http://gideons.bible.is/
Thank you all so much for standing with me in prayer, I really felt the hand of the Almighty upon my trip.
Yah bless you out of Zion !
"For Yahweh has chosen Zion; He has desired it for His habitation:

This is My resting-place for ever; here will I dwell; for I have desired it.

I will abundantly bless her provision; I will give her needy bread in plenty. Her priests also will I clothe with Salvation (Yeshua); and her saints shall shout for joy." Psalm 132:13-16
P.s: My Music is now on the messianic Radio Station "Chavah" LINK: https://messianicradio.com?artist=andre+tischer I appreciate when you sign on and rank my songs 😉
~~~~~~~~~~
18. Tishrei (5779) / 28.9.2018
CHAG SAMEACH BE SCHEM YESHUA ! HAPPY HOLY DAYS IN YESHUA'S NAME!
Yom HaTeruah (Feast of Trumpets/Shouting), "Yom Kippur" (Day of Atonement) & "Sukkoth" (Feast of Tabernacles/ Booth/Ingathering), the fall feast season comes to an end. I hope you had a wonderful time with family and friends celebrating Yah and his "moedim" (hebrew. appointed times). Even if I was working full time I had the most "High" shabbat's off and could fully enjoy the celebration's. For the first day of "sukkoth" I invited "Ushpizin" (aramaic. "guests") brothers from our men's prayer group over and we had a special fellowship with a "schakshuka" (an israeli dish) meal.
The feast of tabernacles/booth is my favourite feast because it is fun to sleep in a tent, seeing the wonderful significance deep meaning of it and it is just great being commanded by Abba himself to rejoice. I love it! And as we see from the scriptural time frame of John the Baptists Father's "Zechariah" Priestly service (Luke 1:5, the 8th. course of Abijah found in 1. Chr. 24:10) that Yeshua (Jesus) was born at the feast of tabernacles. That night a total lunar eclipse was taking place. The priestly course service was instituted by King David and started at the 1. of Abib. and it went 24 month when every priest served 2 times (every time a week) and at the 3 main feasts all priest came together and served in the temple. Yochanan (John) the baptist was born at "Pessach" and Yeshua was concieved around "Hanukkah" (the feast7festival of the winter) and born at "sukkot/tabernacles". And of course there was than no room in the inn because they area of Jerusalem & Bethlehem was packed with about 2 million feast pilgrims. But Joseph & Maria (Myrjam) were led to a sukkah/tabernacle and there the word became flesh. It all lines up. There could be said so much more about this feast and I shared in a few "sharing session" on facebook about that more if you are interested. One special prophetic word in connection with this feast we find in Zech. 14:16-18 what willhappen to the nations in the showdown of the end times? They will be rain-less and will suffer the plagues of egypt because they won't go up to Zion to honor Yah's feast. I guess Europe got a taste the last summer what this is, will be like. Psalm 113-118 Hallel liturgy is sung during the feast days and at the "water libation" procession at the last great feast day Yeshua lifts his voice and says: "If any man thirst, let him come unto me. He that believe on me as the scripture says, out of his belly shall flow rivers of living water." (John 7:37-38)
I am not sure when I have the next time the chance to celebrate one of the feasts in Zion, but as we say and wish "Schanah haba be Yerushalajim!" (Next year in Jerusalem!). Be esrat Yah/With the help of Yah I pray. Please keep also my next song recordings in your prayers, I am not sure yet when I start.
I thank you all for your prayers & support. I really appreciate you stand with me. Yah bless you for it!
In exile far north where it is getting colder, I send you warm "shalom" blessings, and once again "chag sameach be schem Yeshua!" Happy holy days in Yeshua!
Andre
"The Word became flesh
and made his dwelling among us. We have seen his glory,
the glory of the one and only Son, who came from the Father, full of grace
and truth." John 1:14
~~~~~~
15th. day of the 6th. month of Elul, 5778 (26-8-2018)
Schavua tov be Maschiah /hebr. A good week in Messiah!
I hope you had a great, warm and blessed summer. I was kind of busy working full time taking care of elderly with only 1 week off and in the free time doing praise sessions at the local market place. The song "Yah's Love " (feat. Aida Karamo, Produced by Joel Kiskola) is now played on "Jah Roots" Radio, one of my favourite radio stations http://jahrootsradio.com
Our Shabbat Meetings are growing steadily and that is really a blessing. We praise together, read the torah portions and discuss it afterwards. We bless each other and pray for each other. We have seen healings taken place throughout our meetings which is strenghtening my faith. It is only in finnish language and if you are interested send me a message here at "contact" and I will add you there. Also the men's fellowship is going well. The brothers get to know each other, we are sharing praise reports and prayer requests.
I was sharing on my facebook page about "circumcision of the heart" and "new heart" and "been born from above/of the spirit". Click the red links if you want to read them.
We are getting ready here for the fall feasts season of YAH which is very exciting, Hallelu YAH, All praise to the Almighty. I am praying and waiting when ABBA is letting me see the set apart Haeretz again. But for now its just not the time. I hopefully will be able to put out new set apart tunes in the next few months…please keep my next album and my family in prayer.
I will leave you with the words of Yeshua in John 3:6 "That which is born of the flesh is flesh; and that which is born of the Spirit is Spirit."
From Savonlinna, Finland with Love, Andre
~~~~~~~~~~~~~~~~~~~~~~
6th day of the 4th month, 5778 (20.6.2018)
Shalom, how are you? I hope you guys are all doing great. Wow, time is flying by again like a rushing wind. One month ago around "Schavuot/Feast of weeks" was my last blog entrance. My interview at the radio show "Only visiting this planet" on http://www.messianiclambradio.com went really well and actually was really funny. Unfortunately it was not recorded so I hope we manage to make another one soon and I will post the link than here. My music will now also be played on "Tsiyon Road" radio at http://tsiyon.org/music/andre-tischer/
They have also a mobile app under the same name and you can download it for free at the apple store, tunein, google play and amazon.
Because I am so busy with my full time job with two shifts I was not able really to start recordings for the next album, but praise YAH from next shabbat on I have 10 days summer holiday and hopefully be able to start. Also than I will open my street art-praise season so please keep me in prayer during that time. Thank you!
I have done a few "facebook live" videos recently with various cover songs (from believers in Messiah) and you can check them out on my FB page http://m.facebook.com/andre.tischer.music/
I want to encourage & challenge you with words from a Proverb 23:26 from the wise king Solomon.
"My son, give me your heart, and let your eyes observe my ways."
YAH is with you if you want to and the Father loves you more than you will ever know!
Andre with love from Savonlinna, Finland
~~~~~~~~~~~~~~~~~~~~~~
6th Sivan 5778 (21.5.2018)
חג שבועות שמח!
Chag schavuot sameach!
Happy feast of weeks (pentecost)!
Siunattua viikkojuhlaa (helluntaita)!
As we celebrate this "schavuot" – the feast of weeks (pentecost), let us remember that love is the source of life itself. Yah motivated by love gave the "10 commands" (Torah) as a marriage contract (ketubah) to his people Israel & sojourners on Mt. Sinai. 2000 years later Yah's son send the "set apart ruach/spirit" to the gatherred believers in Jerusalem out of love. So the "gifts of the ruach/spirit" (including prophecy) are an act of love. And Yeshua says to us also again today "If you love me, keep my commands!" (John 14:15) "By this we know that we love the children of Elohim, when we love Elohim and obey his commandments. For this is the love of Elohim, that we keep his commandments. And his commandments are not burdensome." 1. John 5:2-4
Savonlinna, Finland
~~~~~~~~~~~~~~~~~~~~~~~~~~~~~~~~~~~~~~~~~~~~~~~~~~~~

Iyar 25, 5778 (11.5.2018)
The day 40 of counting of the Omer
It's been some time since I was last time blogging here...I hope you are all doing Yahsome-great wherever you are. I wish and pray that the joy of salvation of the Almighty fills your life with blessings.
A lot of things happened since the last blog. I got a new job in taking care of the elderly here in town which is a big-small miracle. I am so thankful for how YAH always provides for me. Hallelu YAH !
I started to collect some new material for the next album. I asked on facebook on different sites believer music artists if they want to contribute material for my upcoming recordings and I recieved emails with some cool beats and loops. So thats a good start. I am excited that I am invited for a radion show called "Only visiting this planet" on www.messianiclambradio.com on friday 01.06.2018 at 9:30 am U.S./East Coast Time which is 4:30 pm Finland T. and 3:30 pm Central European T. So I hope you tune in. Also other messainic radio stations promised to play songs of my debut album "Set Apart Praise / Hallel Kadosh" 🙂 Let's see or better say let's hear.
If you are a YAH praiser and have the calling to worship and lift up the Almighty don't be surprised that the enemy attacks you. He will do everything to stop you, to discourage you and pull you down. David Psalms give us a good picture of how this struggle looks like. And its o.k. to be vulnerable and to be brutal honest and share your struggle with the heavenly father and also others. Yes, also we worship leaders need each other. Pray for one another and stand in the gap for each other.
I want to encourage you, press on if you face opposition. That means only you are doing the right thing and are on the right track.
"Praise YHWH, Sing to YHWH a new song, his praise in the assembly of the faithful people". Psalm 149:1
Shabbat shalom!
with love from Savonlinna, Finland
~~~~~~~~~~~~~~~~~~~~~~~~~~~~~~~~~~~~~~~~~~~~~~~~~~
12 Iyar, 5778 (28.4.2018)

Shalom Y'all,
so here we are "peparation day" and we approach the jewel crown of the week "SHABBAT". A quite busy week for me it was. I uploaded my debut album "Set Apart Praise / Hallel Kadosh" and "homepage" to the net and submitted my songs to messianic radio stations and finished a lyric video for the single "Here I am, Hineni" I hope you really like it. Keep in mind that I sing & play instruments, record, produce, publish and promote my music all by myself. Because some people expressed that the song "Here I am, Hineni" spoke to them deeply, I thought to place the you tube video down below here for YOU for listening & watching.
Be ready for our heavenly Abba's lead, wherever, whenever. Respond to HIS call & obey, you will be blessed!
Shabbat Shalom wishes to you with love from Finland, Andre
"Also I heard the voice of YHWH, saying, Whom shall I send, and who will go for us? Then said I, Here am I; send me." Isaiah 6:8
~~~~~~~~~~~~~~~~~~~~~~~~~~~~~~~~~~~~~~~~~~~~~~~~~~~~~~~~
4. Iyar 5778 (20.4.2018)
Hopefully the "hebrew" calendar & the wonderful messianic "torah portions" (*Feast's -bonus) with pretty cool illustrations will keep you going 😉
I am still in the process to set up this site here so please be patient with me. I hope soon I can inspire you on your spiritual journey while sharing with you my thoughts, lyrics, ideas and set apart scriptures of the Almighty.
For now I will leave you with the word's from Yeshua (Jesus) in John 8:32 "Then you will know the truth, and the truth will set you free."
Yah bless, Andre
~~~~~~~~~~~~~~~~~~~~~~~~~~~~~~